Charleston City Guide by local designer, Hart Hagerty
We think this Charleston city guide by local designer, Hart Hagerty is pretty great!  To see the original blog post and to check out her fabulous accessories collection, click here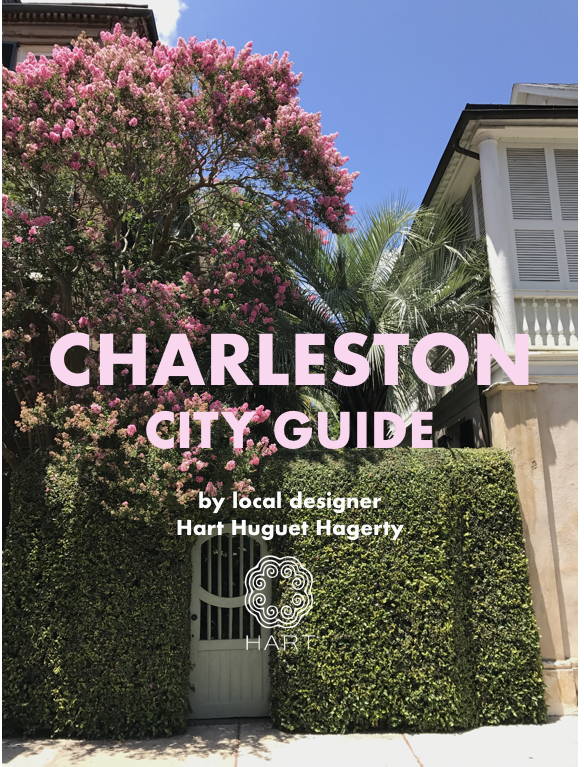 After eight years in Shanghai and New York, I finally moved back home to Charleston. I returned to discover it's no longer the sleepy town of my childhood. I love exploring the city's new discoveries, while also embracing the familiar staples from my past.
It seems every other day a friend and or client asks me to share my travel tips, so I've finally put pen to paper… Here are my top recommendations: a mix of tried-and-true tradition, hip hotspots, and beloved little gems that many guides overlook.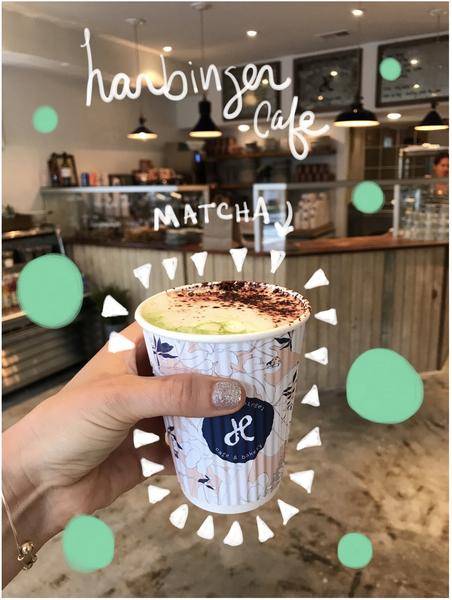 Harbinger Cafe is a newcomer that won my heart over immediately with its vegan salads, gluten free pastries and frothy matcha lattes. The cafe is airy, feminine and relaxed. I love to sit in the window and watch the wonderfully diverse neighborhood go by.
The sunny yellow dining room of this beautifully-restored building is the perfect backdrop for a lazy weekend breakfast or casual lunch. Suffering from a late night? Sit at the bar, sip on a Blood Mary and savor their Japanese-inspired omelettes, decadent cinnamon rolls and hangover-curing sausage sandwiches. I love to eat here by myself with a magazine or book, or cozy up at the bar with my man.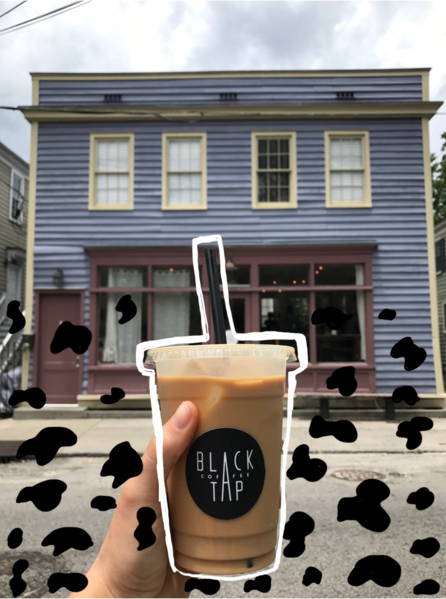 Black Tap — which I lovingly call 'Crack Tap' — is a sunny, minimal cafe that makes coffee lovers beam from ear to ear. Be warned, concoctions like lavender lattes are rocket fuel. This intimate space is not a laptop cafe; instead visitors chat and read The Times splayed out on the communal table. Bonus: the staff are cute, scruffy guys rocking out to New Order and Future Islands!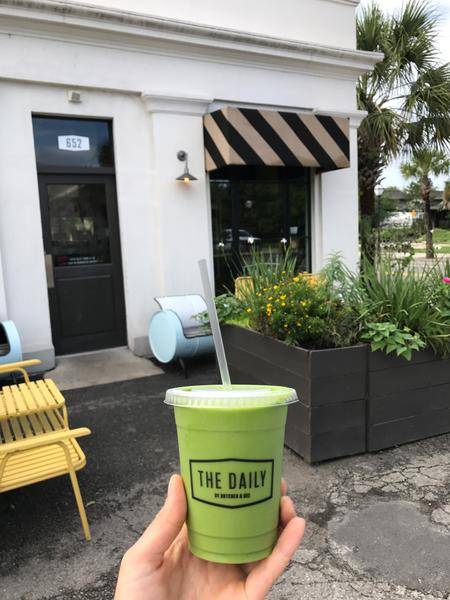 The Daily is a casual version of its sister restaurant Butcher & Bee. The industrial, modern lunch spot serves smoothies, salads, pastries, and coffee. The Daily is just cool … I always seem to bump into my creative friends (designers, photographers, artists) on each visit.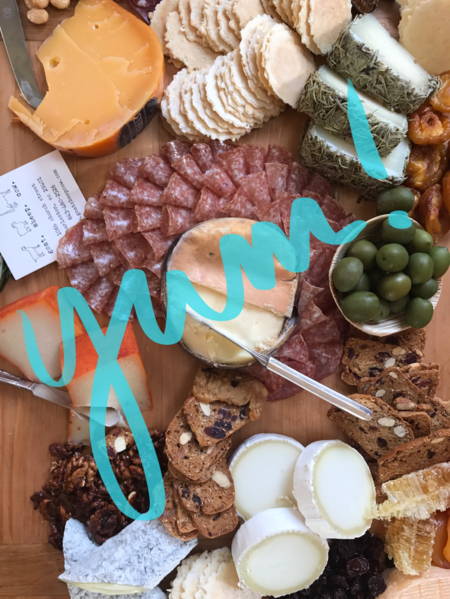 Goat Sheep Cow is a sardine-can-sized gourmet specialty cheese shop on Church Street. If you're going to host a picnic or a party, their outrageous platters are worth the splurge. They recently opened a second location — a grownup sister restaurant — on upper Meeting Street where you can pretend your French for a night with wine and cheese.
Given its massive success and lines out the door, Callie's has 'tourist trap' written all over it. But her biscuits are the real deal. I take my friends first thing in the morning before the wait escalates. Pick up biscuits to-go and take them to the beach!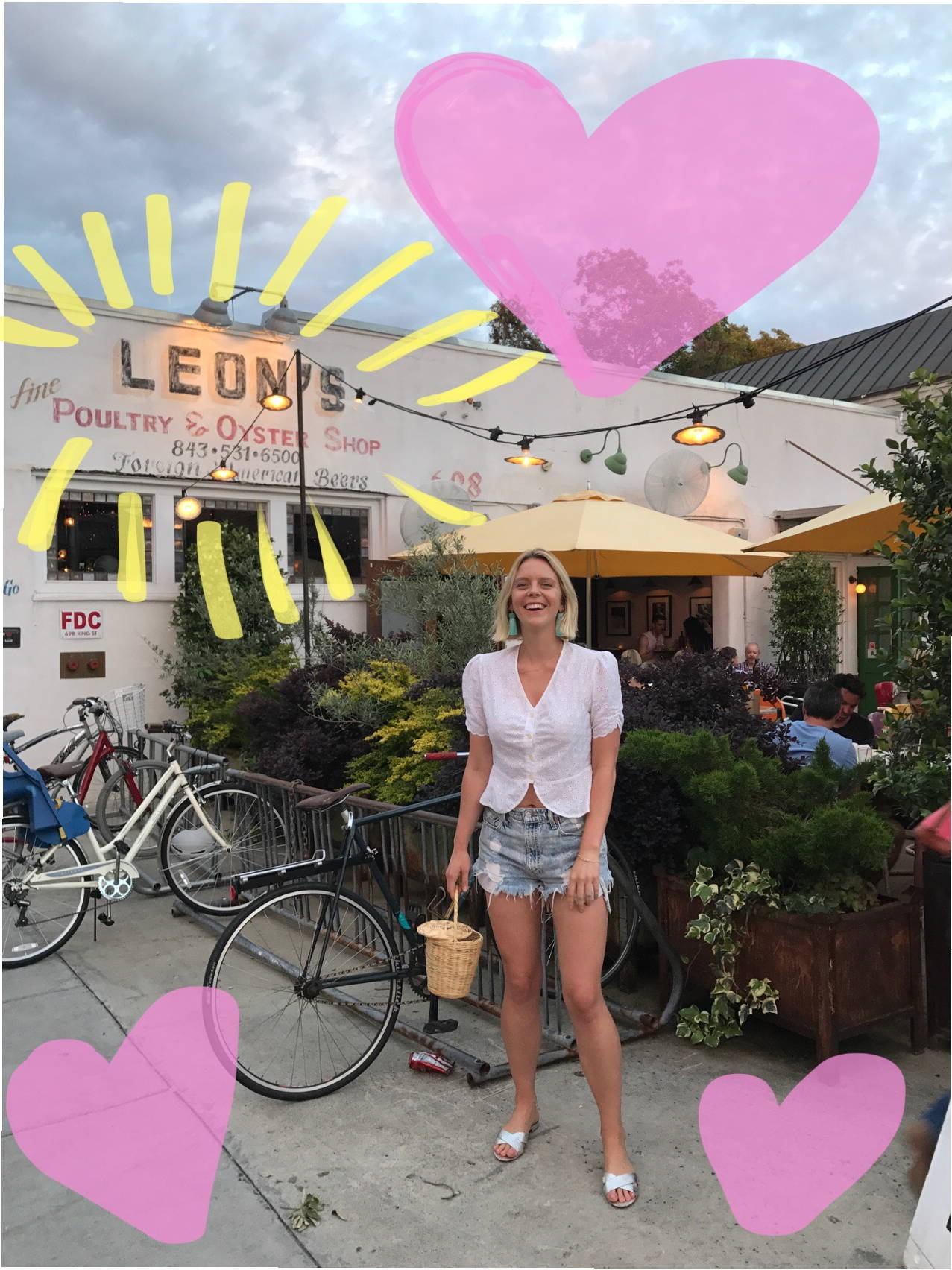 Leon's is the first place I take a visitor to introduce them to Southern food in a vibrant, cool setting. Once we set foot into the converted auto body shop, I don't even need to look at the menu. I always order family style portions of fried chicken, hush puppies and fried oysters. The food is always great, and the vibe is always buzzing.
At night, this modest Broad Street bakery transforms into a neighborhood dinner gem for locals. The kitchen is helmed by "two Phils," a chummy, hilarious duo who whip up incredible, simple dishes on small hot plates behind the bar. Also great for wine and raw oysters.
FIG lives up to its many awards and accolades. I've never had a less than marvelous meal here. Chef Jason Stanhope's magic lies in his small plates crafted from hyper-local, seasonal ingredients. Order the eggplant and cottage cheese and ask the bartender Andrew to make you a wet martini. The dining room is very formal. I think the best seat in the house is at the lively bar.
We're spoiled with great BBQ in this town. Texan BBQ by John Lewis and SC native Rodney Scott are incredible options, but Hometeam is my top pick because — not only is the pulled pork fantastic — but you can balance out the indulgence with large salads and veggies. That said, if you want a total gut-buster, dig into the appetizer of pork cracklings and pimento cheese!
Butcher & Bee never disappoints when I want a flavorful, filling meal that's still healthy. If you like to graze, order all of the small mezze plates like whipped feta with radishes and spicy carrot salad. This also makes a great weekend brunch option. If there's just two of you, sit at the bar in front of the kitchen to watch the talented young cooks in action.
Good old Hominy Grill is Charleston's most famous southern restaurant, known for its fried chicken and biscuits. While it's worth the wait, Hominy is usually packed for weekend brunch, so I suggest to go for a weekday lunch or dinner instead.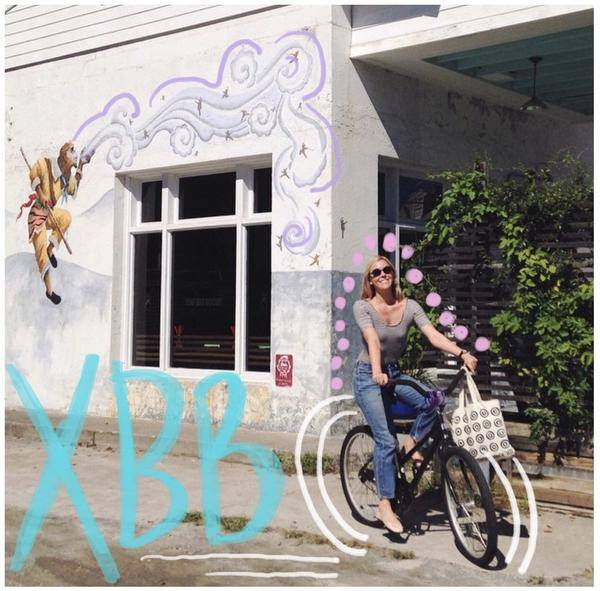 With its fresh Asian dishes and laid-back surroundings, XBB is my go-to spot to catch up with girlfriends over dinner and drinks. The owners – who are also DJs – spin their electronic mixes for the restaurant's playlist, which pumps throughout the colorful interior of the former gas station. The menu of Asian soulfood "was inspired by kickass grandmothers everywhere" and features familiar comforts like papaya salad, mapo dofu and steamed fish.
The Variety Store is a no-frills local diner right on the Ashley River downtown. Come here for a breakfast of shrimp and grits. The veteran waitresses keep your coffee mug full and call you "sugar." The interior hasn't changed a bit since I used go here on Sundays with my granddad. We'd get a window booth and watch the dolphins swim by.
Most visitors paddle board and kayak at Shem Creek, but I recommend avoiding it because of boat traffic and poor water quality. If you want to get out into nature, drive a bit further to Isle of Palms to Ocean Fitness. This boutique operation offers great paddle boarding classes — from excursions to fitness classes.
First, a shoutout to all the lovely local stores who carry my earrings:
IBU Movement, Noddy, CandleFish, Maris De Hart, FieldShop at the Dewberry and Drift.
Owner Deirdre Zahl — who moonlights as a DJ — has curated a magical, girly fantasy world inside her Cannon Street store. Here you can find vintage clothes and accessories, as well as her own jewelry designs.
I encourage you a visit to the famous Jewel Box to see the magic of this multi-generational women-run business. For over a century, Charlestonians have trusted Croghan's for gifts for debutante parties, bridal and baby showers, weddings and, of course, engagement rings. Mini Hay, the youngest granddaughter in the Croghan's dynasty, is paving the future legacy with her own cheeky jewelry line of Goldbugs (ok, it's a gold-plated cockroach… Charleston's unofficial mascot).
Worthwhile established itself as the authority of bohemian-chic back in 1993 on King Street. Shopping at this lovely little store with a warm wood interior feels very personal and welcoming. It carries an eclectic selection of designs from Rick Owens to Isabel Marant, as well as jewelry and gifts, including a gorgeous gold silk quilt depicting the Charleston coastline by Haptic Lab.
IBU was founded by Susan Hull Walker, whoI am very grateful to call a friend and mentor. Susan travels the world in search of beautiful artisanal fashion. Every piece is handmade by women, promoting economic self-sufficiency through the art of their hands. Her boutique on lower King Street is a bohemian oasis and treasure trove, swathed in rich textiles and dotted with stunning jewelry (including my special edition earrings!) and accessories like basket bags and Moroccan babouches. Susan has an incredible eye for styling souk treasures in a timeless, modern way.
Owner Stacey Smallwood travels to Europe multiple times a year to pick a fresh, creative edit of major designers like Stella McCartney, Carven, and Isabel Marant and contemporary labels like Ulla Johnson, Tibi, Zimmermann and Rag & Bone. Hampden is the exclusive retailer of Golden Goose in town as well!
Visiting the sunny, open shop of local candle company Candlefish is sensorial joy. The shop is beautifully curated, with more than 100 scents to choose from. A chic souvenir is their Charleston Candle, with notes of jasmine, tea olive and magnolia… and sea salt of course. Candlefish also hosts weekly DIY workshops on candle-making.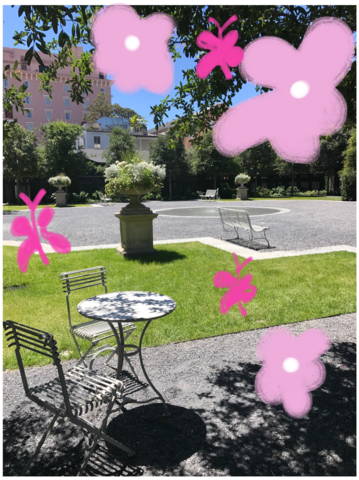 The Gibbes is Charleston's premier art museum, housed in a grand Beaux Arts Building that was recently restored and renovated. Its collection features more than 10,000 works of fine art, principally American works, many with a connection to Charleston or the South. After a tour, enjoy a drink alfresco in the back garden reminiscent of Paris.
Redux Contemporary Art Center
Redux is a non-profit community art institution that's home to 40 studios of local Charleston artists all creating together under one roof. In its spacious warehouse on upper King Street, the organization hosts diverse exhibitions and education programs for the public in addition to frequent open studio parties. Look at their website calendar for free art exhibitions, artist and curator lecture series, film screenings, and workshops.
The Southern is a contemporary art gallery dealing in recent works by artists connected to the American South. This big white box building, hiding behind a Pizza Hut, looks like it was plucked right out of Miami's Wynwood Walls district. The gallery hosts parties on a weekly basis and is the hub for Charleston's alternative creative crowd.
Middleton Plantation is a National Historic Landmark and home to the oldest landscaped gardens in the US, covering 65 acres. The Gardens have been planned so that there is something blooming at Middleton Place year-round. Be sure to check out the tours to brush up on Charleston history.
With over 40 taps, this friendly, funky beer bar boasts Charleston's best selection of "unusual, rare and one-of-a-kind beers from South Carolina and beyond." The menu offers a fresh, local spin on traditional pub food like buffalo oysters and fried chicken sandwiches.
When I'm craving fancy and cool, I hightail it to the lobby of the this luxury hotel in an immaculately restored midcentury building. Steeped in stunning 1960s design, the lobby transports you to another era.
Bars on King Street are kind of a hot mess that I tend to avoid. Cozy cocktail lounge The Belmont is an exception, with its laidback surroundings and subtle retro vibe. The handsome mustached bartenders whip up serious cocktails while classic black and white films are project on the back wall. It is great for drinks after dinner at the Ordinary or the Darling.
The Faculty Lounge is a speakeasy-dance club, where you have to ring the doorbell to get it in. This under-the-radar local favorite hosts the best local DJs who spin disco, funk, and reggae and house. The bar has is laid back and fun. Buy your friends a round with the affordable cocktail prices.
Royal American
With neon lights, live music, and Harley Davidsons parked outside, Royal American reminds me of my barhopping college days in Nashville. I love the grungy vibe of this place, with graffitied bathroom stalls, stiff punch drinks and sticky floors. This lively joint books a steady stream of indie rock bands, so check their line-up.
The Commodore
It's impossible to not have fun at The Commodore. When the owners reincarnated the old jazz club 'A Touch of Class,' they preserved the original leather booths and murals depicting blues musicians. The bar hosts live soul bands on weekends, crowding everyone onto the tiny checkered dance floor late into sweaty nights. When you get hungry, head to the nearby Palace Hotel for late night hot dogs.
To see the original blog post, click
here